Posted: Thursday, November 17, 2016 6:16 PM
---
D. M. Gremlin Studios Presents: STUDIO B
Full-time, low-cost pro studio space including lights/gear!
Private Instruction in Lighting Styles - Beginner to Advanced Lightng Techniques
Intro to Studio Shooting Class
- basics of studio lights, flash sync, camera settings
Date TBA: Studio Open House Night
- tours, networking, open shooting
Date TBA: Studio Photo Lighting Practice
- hands-on "lab time"
** Air-conditioned/heated private shooting room available by reservation.
** Day/night hours 7days/wk; no minimum number of hours.
** Scroll down for studio photos & list of gear and amenities
included
in the $20/hour rental rate!
Studio Contact: Visit our website, email studio@dm-gremlin.com, or call 866-334-4364 (voice only; no text).
For rental requests, please provide the information listed at our booking link - thank you!
**PLEASE ALLOW 5-7 BUSINESS DAYS IN ADVANCE FOR FIRST-TIME REQUESTS**
Posted rates apply to reservations confirmed at least 48 hours in advance.
First-time rentals are confirmed upon completion of payment.


SMALL GROUP RATES: (groups of 6 or fewer people)
Hourly: $20/hr
Half Day: $90/5-hour block ($18/hr)
$18/hr each add'l hr past 5 in same session

LARGE GROUP RATES: (groups of 7-15 people)
Hourly: $25/hr
Half-Day: $110/5-hour block ($22/hr)
$22/hr each add'l hr past 5 in same session

This is our dedicated photography studio, equipped for versatility and lighting control, with gear and amenities for the discriminating photographer.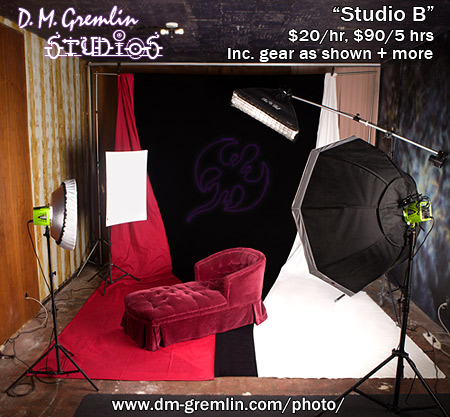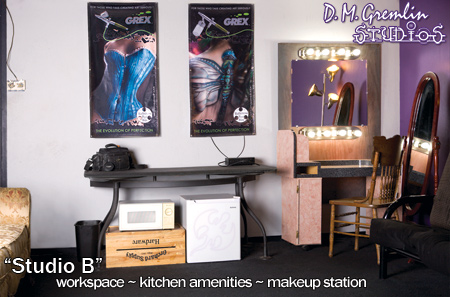 STUDIO B RENTAL RATES INCLUDE ALL OF THE FOLLOWING:

* 15' x 29' shooting room with 10' ceiling
* Ceiling anchor points for hanging sets/props
* Four Alienbees B1600/B800 strobe heads
* Pocket Wizard transceiver set (2 units)
* Beauty Dish: 22" w/ diffusion sock
* Softboxes: one 48" octabox; one 2x3' rectangle; one 1x3' gridded stripbox
* Umbrellas: two white shoot through; one silver reflector
* Cone reflectors (by request): 4 standard 7"
* Honeycomb grids (by request): one 10-degree; two 20-degree
* Light stands: one boom; one heavyweight straight; two standard straight

* Cloth backdrops: 10x20' black/white/red
* Wall backdrops: industrial; wood; starfield; maroon; purple * Boudoir set with ornamental daybed
* Set furniture: gold brocade couch; red settee

* Makeup station w/ mirror & vanity lights
* Rolling/folding garment rack
* Sound system w/ hookup for your music device (iPod, laptop, CD player)
* Microwave & mini-fridge (you provide food/beverages)
* Air conditioning/heating
* Private restroom
* Access to free street parking or private gated parking lot




Additional items (limited availability; please inquire w/ rental request:
Black or white seamless background paper: $25/section (when in stock). Alienbees Ring Flash/Moon Unit: $15 for duration of any rental.

We do not block out time for free studio tours. Those who desire an onsite tour/viewing are welcome to book the studio for a 1-hour time slot (all regular booking rates and policies apply).

TERMS AND POLICIES:
** Listed rates apply to reservations confirmed at least 48 hours in advance.
** Short-notice policy/rates apply to reservations confirmed less than 48 hours in advance.
** Non-refundable payment in advance is required to confirm first-time rental.
** For 2nd-time rental onward, payment is due in cash at time of shoot. Receipts are available upon request.
** First-time reservation may not be canceled/rescheduled once confirmed. Reservations after the first require the following notice to cancel/reschedule: no less than 48 hours for changes to weekday bookings; no less than one full week for changes to weekend (Sat/Sun) bookings.
** A contact phone number, home street address, and email address are required for booking.
Additional terms apply as listed on the studio's website.
• Location: Los Angeles, N. Long Beach 91 & 710 fwys

• Post ID: 9334021 losangeles